AUGUST 2020
VIRTUAL EVENTS
8 Marketing Lessons Learned From Taking Events Online
The shift to digital events that's sweeping the meetings industry in response to the COVID-19 pandemic has shown that virtual events require a different marketing approach than live events. Here's what the last four months have taught the industry.
Source: PCMA Convene
What to Charge Exhibitors for Digital Events?
Recommendations from the PCMA Catalyst community include what some organizers have found to be the sweet spot for exhibitor pricing, how to add year-round value to sponsors, and ways to get attendees to engage with exhibitors online.
Source: PCMA Convene
Four Etiquette Rules for Remote Meetings
TBusiness meetings held in virtual settings come with some familiar rules and some different ones. Be sure you follow them to maintain your professional polish—even if you're secretly wearing shorts.
Source: ASAE Associations Now Daily News
8Networking and Gamification at Virtual Events
With the assumption there is a live video option, have a series of small room gatherings. Some could have micro topics and others could offer "open networking." You can also hold a scavenger hunt throughout the online exhibit hall and virtual photo booths are fun, too.
Source: PCMA
Survey: Nearly Half of Association Executives Say They're Using Zoom for Virtual Conferences
With so many associations transitioning events to virtual environments, everyone has their opinion of which platform is the best. And with so much new information to digest, it isn't easy to find the ideal solution for your association.
Source: Protech
Don't Let Zoom Fatigue Affect Attendance for Your Virtual Events
When marketing your virtual conference or event, describe how yours will be more enjoyable than others thanks to these nine virtual event strategies that minimize digital or Zoom fatigue.
Source: WBT Systems
WORK AND WORKPLACE
How To Increase Happiness and Productivity in the Workplace
A recent poll concluded that a mere 15% of global workers actually like their job. The vast majority positively dislike their workplaces, perceiving them as something to be endured rather than enjoyed. But what would it mean if people turned up to work in a place they felt great about, and where they felt supported and inspired?
Source: Company Debt
Deloitte Study: Millennials, Gen Z showing resilience amid COVID-19 crisis
While concerns of stress and anxiety remain for many young adults, the latest edition of The Deloitte Global Millennial Survey finds that many are looking at the current cultural moment as an opportunity to reach for something higher.
Source: ASAE Associations Now Daily News
NON-DUES REVENUES
Serve your members and grow non-dues revenue with these online career center tips
If a job board alone isn't enough for your members, what service(s) can you add? One suggestion is to implement an online career center where members can post their resumes, share job opportunities or gain career advice from your association. Here are a few pieces of advice association managers can immediately implement to engage with and serve members, all while growing non-dues revenue.
Source: Protech
DOWNLOADABLE:
Australian Association Sector – COVID-19 Impact Survey Report, "Finding Opportunity in Crisis"
Source: AuSAE / Survey Matters
VIDEO:
AExtreme event design: What is the new normal in extreme times?
by Robert Dunsmore
No matter what the format, whether it's in person, online or hybrid, events will always be about people. Now's the time to take it to the extreme.
Source: IMEX Group
BUSINESS MIRROR COLUMN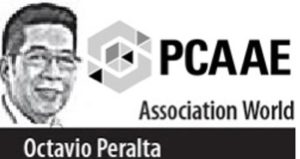 The '4S' strategy to survival
Membership Engagement on the 'Dot'
Association governance before, during, and after Covid-19
Of associations, ecotourism and Uzbekistan
'Reflections and the Future of Associations'
Subscribe to receive our monthly newsletter
2nd Floor, Skyland Plaza Senator Gil Puyat Avenue 1200, Makati, Metro Manila
Connect with us!
© 2020. Philippine Council of Associations and Association Executives. All rights reserved.