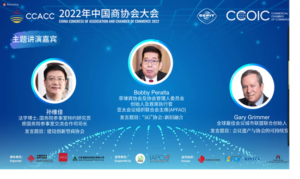 PCAAE, represented by its Founder & CEO, Octavio (Bobby) Peralta, was on of the keynote speakers in the "China Congress of Associations and Chambers of Commerce" (CCACC) 2022 held on December 16, 2022 which was hosted by the China Council for the Promotion of International Trade, Commercial Sub-council (CCPIT-CSC) and organized by the China Chamber of International Commerce, Commercial Chamber of Commerce (CCOIC–CCC).
The theme of the virtual congress was "Insight into Trends, Quest New Paths" and was attended by over 100 participants, including from overseas.
CCACC 2022 focused on areas of association management, association meetings, and exhibition management.