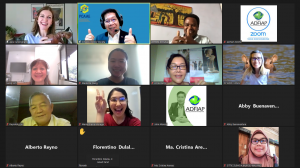 PCAAE conducted a webinar entitled, "Let's Facilitate: 21st Century Skills for Collaborating and Leading," on October 13, 2021 which was attended by 25 local and overseas participants.
The featured speaker were Sweden-based Jane Cunningham, Managing Director, Cunningham Consulting AB and a Certified Virtual Facilitator and Switzerland-based Pamela Lupton-Bowers, Founder and Managing Director of PLB Consulting, Ltd., a Hall of Famer with the International Association of Facilitators (IAF).
Jane and Pamela  shared their experiences in facilitating groups tackling local and global issues. They also explored some of the key distinctions of one's role as a facilitator in group decision-making, leaving one with new ideas and inspiration to support  the association towards co-creating collaborative change.
This webinar is part of a series of monthly online learning sessions for association leaders and professionals, themed, "Pathways to Recovery" which aims to provide participants with insights from fellow association leaders as well as update them on current trends and practical tools to further improve their work in providing service to their members.
For more information on the event, please email Sandy Lim at sandylim@adfiap.org