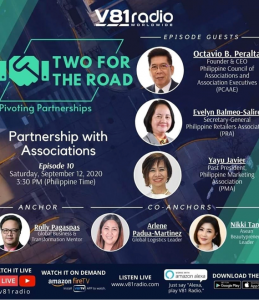 PCAAE, represented by its Founder & CEO, Octavio 'Bobby' Peralta and two of its Board of Trustees members, Ms, Evelyn Salire, Secretary General of the Philippine Retailers Association (PRA) and Ms. Yayu Javier, past President of the Philippine Marketing Association (PMA), was featured in the virtual program, "Two for the Road: Pivoting Partnerships" which was broadcasted live on V81 Radio Worldwide at 3:30 p.m. on September 12, 2020.
The program, which was watched by over 9,000 viewers around the world, was episode 10 of the online show, "Talk.Shop.Asia" and highlighted the pioneering activity of PCAAE in organizing an "association for the associations" in the country.
The 2-hour program covered many topics on associations but focused on what PCAAE is, its purpose and mission, stakeholders and activities; what hurdles it initially faced in organizing it and solutions made; what are its programs and activities; its take on the pandemic and what measures were undertaken and how PCAAE is re-imagining its future after this pandemic.
The program was moderated by Mr. Rolly Pagaspas, Founder & CEO, TSA Global Business Hub & Media AG and Partner-CEO, Asia & the Pacific (V81 APAC), V81 Radio Network WW, Ms. Arlene Padua-Martinez, global Logistics Leader and Ms. Nikki Tang, ASEAN Beautypreneur Leader.
For more information on the program, please e-mail Boyet Florencio at eflorencio@adfiap.org