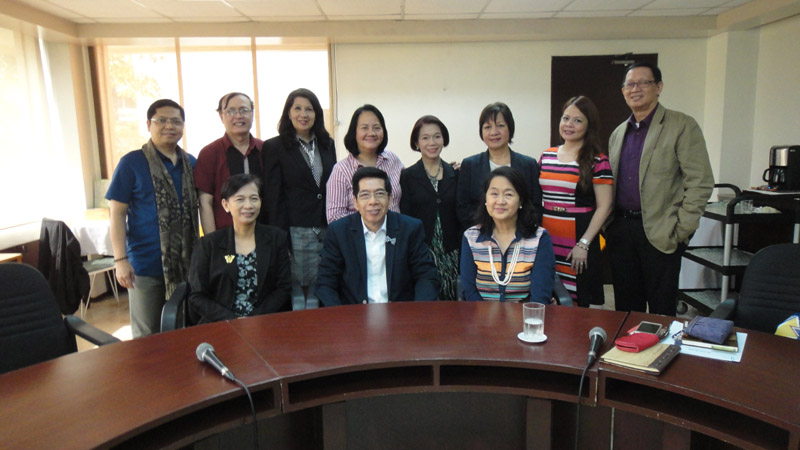 The PCAAE Board of Trustees held its first meeting for the year on January 21, 2015 at the Girl Scouts of the Philippines (GSP) national headquarters which hosted the event. The meeting was also an occasion for the Board and Secretariat to do a strategic planning exercise and work planning session.
Eight of the 13-person Board attended the meeting, with the rest providing proxies for missing the meeting due to previous commitments and/or on travel abroad. Present were Octavio B. Peralta of ADFIAP (presiding Chair), Cora D. Conde, ADFIAP (Vice Chair) and members Gwen Albarracin (Philippine Marketing Association), Evelyn Salire (Philippine Retailers Association), Gerry dela Zerna (International Association of Volunteers Effort Philippines ), Sandy Lim (ADFIAP), Alberto Reyno (ADFIAP) and Myra Sarmenta (GSP) through whom the request for meeting venue host was requested to Ma. Dolores Santiago, GSP National Executive Director, who joined the group photo. From the Secretariat, in attendance were Emy Chavez and Enrique Florencio, PCAAE President and Board Secretary, respectively.
Work plan recommendations to the PCAAE's six working sectors included the provision of a membership kit, fellowship program and the creation of a "Member's Helpline" facility for the membership sector; the development of marketing and communications plan for marketing and communications sector; financial management and documentation as well as fund sourcing and fund generation for the finance sector; updating of stakeholders profile and developing new partners and linkages for the advocacy and stakeholders' relations; to offer online services including website development for the technology sector; and AES III, continuing education and certification program as well as members recognition (PCAAE Awards) for the programs sector.